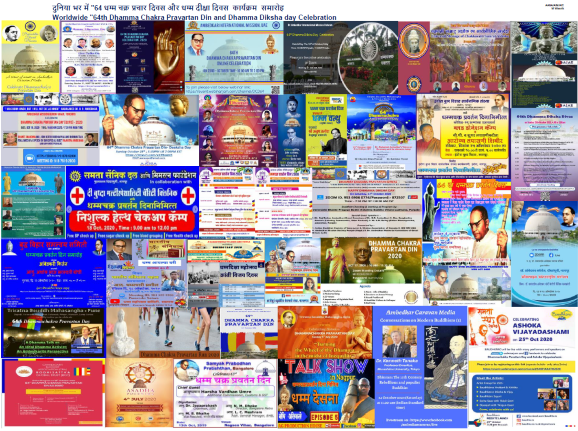 (Samaj Weekly)
– Mahesh Wasnik- Global Ambedkarite 
NRI Ambedkarites based in USA, Canada, UK, Germany, France, Nederland, Spain, Sweden, Japan, Singapore, New Zealand, Belgium, Hungary, Australia, UAE, Oman, Qatar, Saudi Arabia, Bahrain and Malaysia celebrated 64th Dhamma Chakra Pravartan Din as a Dhamma Deeksha Day.
During Covid-19 pandemic distressing time, NRI Ambedkarites celebrated most of the program online via zoom, facebook and youtube.
Dhammachakra Pravartan Day also called as a Deeksha Day is one of the special festivals for Buddhist families across the world.
Every year this festival is celebrated on 14th October or on Vijaya Dashmi Day.
On this day, local Buddhist and Ambedkarite families come together at the Deekshabhumi Nagpur to take refugee to Buddha, Dhamma and Sangha.
Why is this 14th October or Vijaya Dashmi Day so important?
Ashoka Vijaya Dashmi Day, 14th October is a special day because this day is a reminder of the Buddhist conversion ceremony which is also known as Dhammachakra Pravartan Day. This day is celebrated, since the Mauryan Emperor Ashoka, who converted to Buddhism. Also, Dr. B. R. Ambedkar had converted to Buddhism on this day at Deekshabhoomi, Nagpur in 1956, which fell on October 14 along with 5 lakhs of his followers. Nowadays Ashok Vijaya Dashmi is being celebrated all over India and across the world by the followers of Dr Babasaheb Ambedkar.
Every year the grand festival and congregation is held in Nagpur, Maharashtra, where millions of people gather to remember the Dhamma-Chakra Pravartan done by Dr Ambedkar and to celebrate on Ashoka Vijayadashami.
NRI Ambedkarite also celebrated this festival every year by organizing Dhamma talk, cultural programs, speeches and family gathering.
Please see below lists of programs across the world.