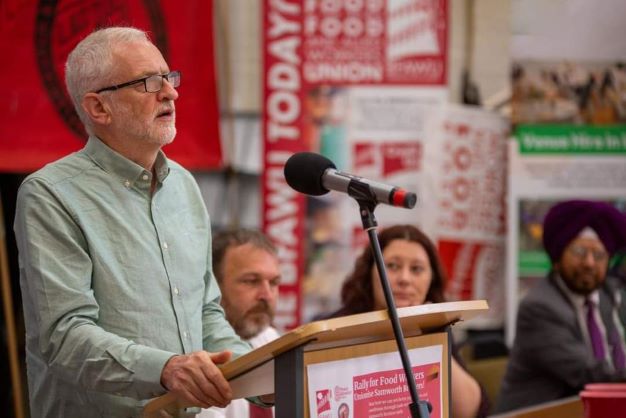 (Samaj Weekly)- Leicester, GB – the 'Unionise Samworth Brothers', a campaign aiming to win union recognition at Samworth Brothers', Leicestershire's largest private employer launched with a rally at Highfields Community Centre in Leicester.
The campaign, a joint initiative between the Baker's Union (BFAWU) and Mr. Corbyn's Peace and Justice Project, supported by the Indian Workers Association (G.B) Leicestershire and  Leicester and District Trades Union council, comes as Samworth workers are facing changes to their pension scheme leaving them with a smaller pensionable salary level meaning they lose out.
The company, started by Sir David Samworth – who in 2012 received an honorary doctorate from the University of Leicester – has been under fire previously for cutting overtime and Sunday pay when the Living Wage came in in 2016, leaving workers worse off overall.
Workers at the factory get no paid breaks, there is no-profit share for the majority of workers – despite what Samworth claims – and night-shift workers only receive an extra £1 an hour for working at these unsociable hours, according to workers the campaign has spoken to.
At a meeting in 2016 with local MP Liz Kendall, workers complained that they were often prevented from going on toilet breaks, something she acknowledged as 'disgusting and ridiculous'.
The rally was attended by over 200 people including many workers from Samworths and other food manufacturing companies in Leicestershire.
Kumaran Bose, who was fired in 2016 for encouraging others to join a trade union, spoke about the need for every worker to join a union because 'together, workers are stronger' and BFAWU General Secretary Sarah Woolley spoke about the work that Baker's Union are doing across the food sector and with members and representatives who speak different languages. Jeremy Corbyn MP told the meeting he was 'proud that the Peace and Justice Project is organising this campaign with the Baker's Union' and spoke about the power of workers and communities – of all different backgrounds, races, religions and in all our diversity need to come together to stop the attacks on the working class and stand up to racism wherever we see it.
Sital Singh Gill, Chair of the Indian Workers Association Leicestershire gave their support for the campaign and talked about the poor conditions many workers work in, including in the garment industry; He further spoke that  currently, Samworths do not recognise a trade union, do not pay workers a fair living wage and have recently made changes to the pension scheme meaning workers will lose out.
IWA is always actively participating in supporting the British Labour movement. We are part and parcel of the British Working class. We encourage membership of trade unions. Where there are no unions, we have helped workers to form their own union.
We have joined the campaign for basic fundamental rights of the workers of Samworth Brothers. We warn Samworth' Brothers to meet this demand and recognise their union.
Otherwise it could be industrial action, it could be a demonstration or any other action whatever possible in our democratic society. Samworth' Brothers workers must receive a fair living wage and cannot accept the recent changes to their pension scheme.
IWA GB has joined this fight and has organised a public meeting on 17th July 2022 at Main Hall of Kohinoor Radio , 108 St Saviours Road, Leicester and this meeting will also be broadcast live on 97.3 FM and online all over the world on krfm.co.uk
Councillor Gary O'Donnell gave their support for the campaign and promised to raise the issue at future Leicester City Council meetings.