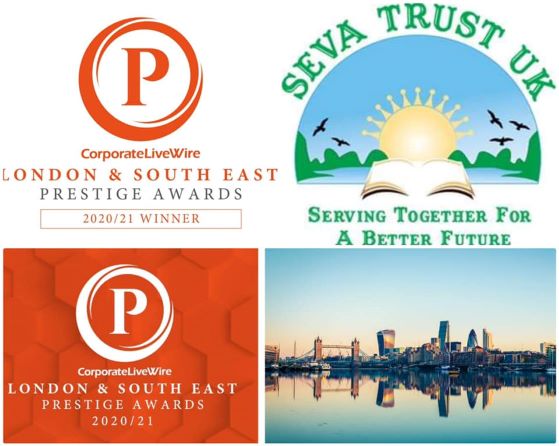 Bedford (Samaj Weekly)- SEVA Trust UK, a Bedford based charity has been recognised for their exceptional community support work and awarded 'Non-Profit Organisation (NPO) of the Year – London & South East' Award by the Corporate Live Wire Prestige Awards Team.
These are the annual awards given to the best performing businesses and non-profit organisations who have made a significant social and community impact.
Srina Masih from London & South East Prestige Awards Team said 'The judging panel has selected SEVA Trust UK for their exceptional support work during Covid19 for all communities and international students in Bedfordshire. They have made a huge positive impact. Due to current restrictions for public events, we notified the winners via email. Our team was extremely pleased to share this news with SEVA Trust UK Trustees, well done SEVA Team.'
The Founder & Chairman of SEVA Trust UK Charan Sekhon said 'We are delighted and proud to receive this award. I feel humbled to work with and lead such a dedicated team. All volunteers worked really hard throughout the pandemic serving all communities. We launched our first Covid19 project on 25th March 2020 and 15 months on we are still supporting the elderly and vulnerable who are facing tough times. We dedicate this award to all of our volunteers and supporting partners. We are a charity run by 100% volunteers, we have no paid staff and we operate a 100% donation policy that means all the donations go towards the cause, not to pay anyone salary or expensive overheads. If anyone wishes to support our ongoing projects please visit www.sevatrustuk.org' said Charan.