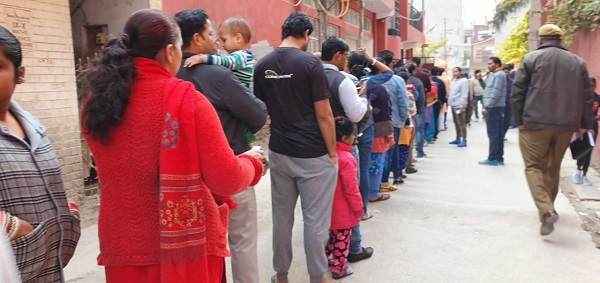 Kolkata,  The BJP suffered a huge setback with none of those who joined the party over the past few months managing to win in the high-profile elections to the Artists forum – the representative body of actors of the Bengali film industry – in the vote count on Monday.
The elections were held on Sunday.
The Left came up with an impressive show with several candidates close to them racing to victory. The Trinamool, despite a few reverses, had lot of reasons to cheer, as a number of actors considered loyalists to the party won.
Shankar Chakraborty was elected as Executive President defeating his nearest rival pro-Trinamool Bharat Kaul. BJP leader Anjana Basu finished a poor third. Arindam Ganguly was elected as General Secretary.
Among prominent pro-Left candidates Paran Bandopadhyay was elected as vice president, while Debdoot Ghosh won the post of Assistant Secretary.
June Malia, Rana Mitra and Sagnik Chatterjee were among the pro-Trinamool candidates who got elected.
Pro-BJP actor Sumon Bandopadhyay claimed his party never looked at the Aritists' Forum polls as a apolitical contest".
"It has always been an apolitical body. There was a forcible attempt to politicise it some time back. But the results say those who contested sans any party colour got the support of the majority," he said.
However, state BJP President Dilip Ghsoh alleged a collusion between the Left and the Trinamool against his party.
"(Left major) CPI-M is alleging a tie-up between BJP and Trinamool. But the fact is CPI-M itself is tilting to (chief minister and ruling Trinamool Congress supremo) Mamata (Banerjee) for survival.
"There are vested interests in the industry, which we oppose. Those who want the vested interests to rule the roost, joined hands and defeated others," he said.
State minister and Trinamool leader Aroop Biswas – who looks after the issues concerning the Bengali film industry for the party and the government a" expressed satisfaction with the results
"Elections to the Artists Forum election have always been apolitical. The trend has continued this time also. I congratulate the artists for not giving entry to the communal forces," said Biswas.
Since its impressive show in last year's Lok Sabha polls, a number of Bengali screen personalities had been crossing over to the BJP, which had recently become very active in matters concerning the industry.
However, those close to the Bengali film world feel the saffron outfit paid the price for factional feuds. Over the past seven-eight months four pro-BJP artists organisations were floated, by various leaders and artists. Those in the know say there is no love lost between these organisations.