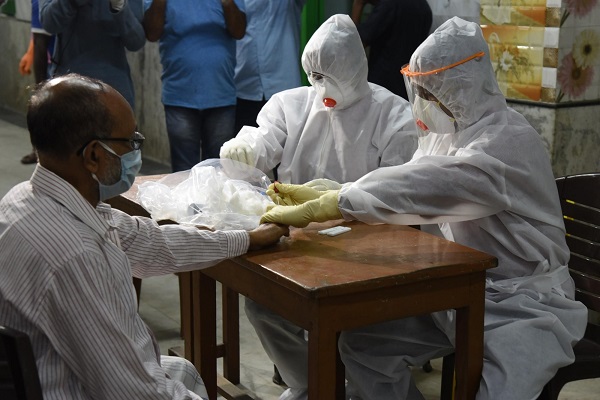 Kolkata, (Samajweekly) To control the Covid-19 spread, West Bengal's largest civic body, Kolkata Municipal Corporation (KMC), on Monday decided to step up its rapid test drives in 150 municipal wards across the eastern metropolis.
"We have already decided to run six vehicles across the KMC area to conduct rapid tests in different neighbourhoods. One ambulance has also been readied. We will introduce six more ambulances into the job by this week," KMC administrator Firhad Hakim told reporter here.
He said that necessary activities like micro planning and sensitisation drives are also being carried out simultaneously across the KMC area to control the Covid-19 spread.
Meanwhile, the state administration has decided to run buses in 15 different routes across Kolkata from Wednesday. App-based cab services will also resume partly in various pockets of Kolkata, Howrah and Barrackpore, except in the containment zones.
Sources said that each bus can carry only 20 passengers and the cabs can commute with only two passengers on the rear seat following protective measures. The driver and passengers in a cab must use hand sanitizers, face mask and gloves.
There will be a plastic shield also between the driver's seat and passengers' seat in all cabs. The priorities to avail bus and app-based cab services will be given to frontline Covid-19 warriors, sources said.
Meanwhile, the total number of deaths due to Covid-19 in the state mounted to 118, up by five new cases on Monday. With 124 new cases getting reported in the last 24 hours, the number of confirmed Covid-19 cases in the state climbed to 2,063, including 1,374 active cases. As many as 499 people have been discharged so far.
According to a bulletin published by the Bengal health department, the state has tested 47,615 samples so far with 4.201 tests being conducted in the last 24 hours. Currently, 6,689 people are kept in government quarantine centres across West Bengal, while 23,296 people are under home surveillance in the state. The recovery rate in West Bengal has risen to 24.19 per cent, the bulletin said.