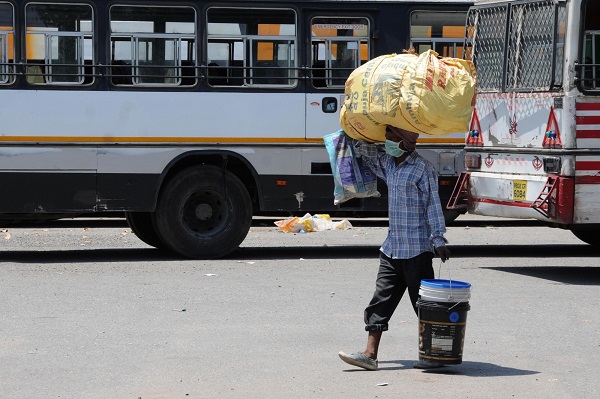 Bhopal, (Samajweekly) Reverse migration of labour from Madhya Pradesh to industry-intensive regions elsewhere is at a much lower scale than that reported from other heartland states like Uttar Pradesh and Bihar or even Chhattisgarh and Jharkhand.
Stories of labour being wooed back to work with promises of much higher wage packages after the traumatic corona break are rare in the state.
Industries in Pithampur, Dewas in west MP and in Bhopal in the central part of the state have recalled many workers from as far as in Rewa, Satna, and Sidhi, depending on their skill level and their familiarity with the work culture in their respective industries. This year, they are being offered transport back to work and may be a slightly higher package because of the unusual conditions.
The movement is, however, intra-state and not inter-state. Local workers are also asked to communicate with their colleagues to get them back.
In Malanpur and nearby parts of Gwalior region, the human resources needs are met through people from bordering UP districts.
Much of the state's export is that of unskilled labour, says Rajendra Kothari, former resident director of PHD Chamber of Commerce and Industries. "Skill is what the industries or even big farmers are mostly looking for. Highly skilled paddy transplant farm hands from Chhattisgarh draw a much better package in Punjab than under-skilled labourers from Madhya Pradesh," he adds.
Even in the global job market, a trained tribal nurse with a degree in nursing draws a much higher pay package than an engineer or an information technology professional, Kothari notes.
In the infra industry too, there is a higher demand for skilled and semi-skilled workers from Bihar and Jharkhand than MP, says a labour contractor. Infra giants like L&T offer to impart skill training among their workers to make their pay packages viable in lands distant from home.
Besides, it would be too early to expect the labour to retrace their steps after the deep scars left by the movement from Maharashtra, Gujarat and other states, say officials monitoring the movement of labour amid corona scare.
"We have mostly witnessed homebound traffic so far. Return to far away states is far-fetched at this point," says Kapil Krishna, who has been engaged in facilitating large scale movement of people past one month.
Additional Chief Secretary I.C.P. Keshari says about 5.87 lakh labourers trapped in various states due to corona infection have been brought back to the state. The process is still going on. Over 176.000 labourers have been brought back by trains and about 411.000 by buses.
According to Keshari, 136 trains have so far arrived in the state. Another four train-loads are expected to arrive soon. Another 487,000 have been transported to other states by buses.
It would also be dicey for the state administration to let a high number of persons leave again even before the sordid tales of migration have faded from public memory. The new government that has been in saddle for just over two months would not let the opposition an opportunity to criticise it by allowing a large scale movement of people, says Sudhir Bhadoria, who has been a labour contractor till a few years ago.
Madhya Pradesh is more of a transit point for manpower due to its geographical location, says Bhadoria. More people have passed through the state to other northern states, than terminated their journey here.
Former Chief Minister Kamal Nath wanted to harness the logistic advantage by training the youth and employing them in the industry that offered to invest in the state. The new chief minister Shivraj Singh Chouhan says so far 13,67,000 migrant labourers of the state have been identified for the Rozgar Setu Abhiyan. This will obviate the need to look for greener pastures outside the state.
Another Additional Chief Secretary Manoj Shrivastava says more than double the work has been offered to the labourers under MNREGS this year as compared to last year. This year, 2,495,962 labourers have been provided work against last year's 1,198,000 during the corresponding period.